Modular Case System
You can start with this …
Cluster is a modular case that grows with you.
It will fit your studio, it can change shape and size.
1. Rear Accessory Port
To connect Power, Audio, CV's and signals to external outboards and other Clusters.
2. External power ports
Each Cluster module has two external power ports to power other Clusters.
3. Row Clamp
It clamps the upper row to make the assembly as solid as one body. No tools required.
4. Feet
Add two or more feet to protect your desk and to make your rack more stable.
5. Hybrid Powering System
An external switching power supply provides the raw voltage from the main outlet to the Powerbus42. Here a linear old-school power supply further cleans the juice, to give your modules the clean and stable power they want.
Fully modular, maximum flexibility.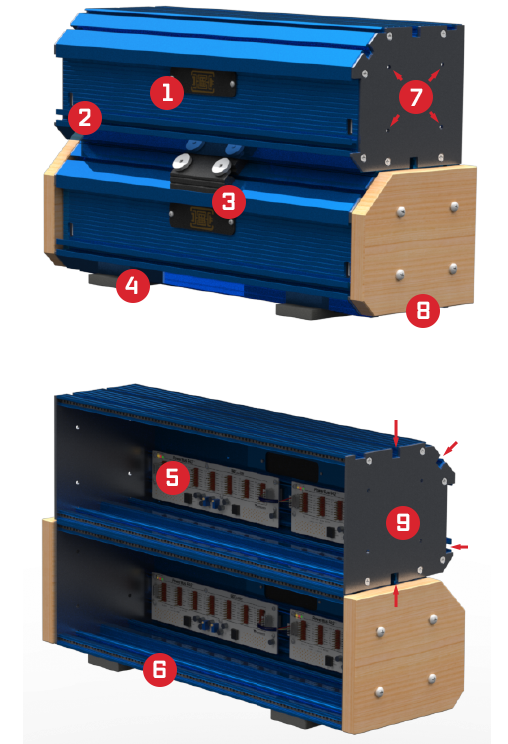 6. Module Rails
No sliding nuts here! A single 3MA rail makes module installation a snap!
7. Side holes
Four 5MA tapped holes. To install cheeks and panels, DIY solutions are welcome too.
8. Wooden Cheeks
The natural complement for Cluster. Made of Wood, adds a warm touch to the case.
9. Accessory Rails
These rails are useful to install external accessories to Cluster. Just slide a 5MA Nut and an appropriate Screw, to install lamps, cable holders, tablet arms, etc.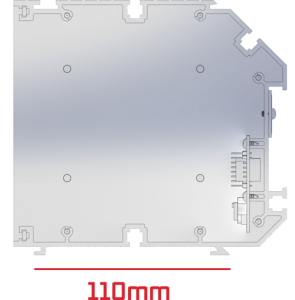 Just the Right Depth
From now on the module depth is not an issue anymore. I designed the Cluster with just the right depth.
With its 110mm (4.33″) of depth it will accommodate almost any modules on the market.
From skiff-friendly factory-made modules, to beefy DIY-made ones, they are all welcome to the Cluster.
Sizes
The available sizes are: 42HP, 85HP, 128HP, 171HP.
These sizes let you mix&match Cluster modules to adapt the case to your needs.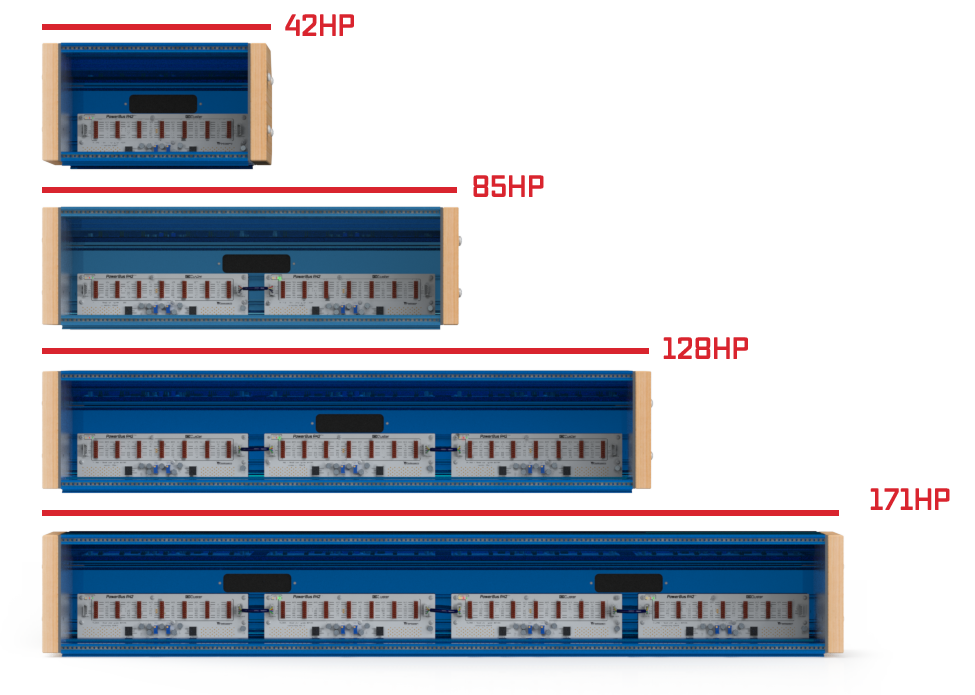 Questions?
Do you have questions about Cluster? Are you a reseller interested in carrying my products? Please drop me a line, I'll get in touch with you as soon as possible.